Efficiently search for atoms that are members of a ring. A depth first search (DFS) determines which vertices belong to cycles (rings). As cycles are discovered they are separated into two sets of cycle systems, fused and isolated. A ring is in a fused cycle systems if it shares at least one edge (bond) with another cycle. The isolated cycles consist of cycles which at most share only one vertex (atom) with another cyclic system. A molecule may contain more then one isolated and/or fused cycle system (see. Examples). Additional computations such as C
R
(relevant cycles), Minimum Cycle Basis (MCB) (aka. Smallest Set of Smallest Rings (SSSR)) or the Set of All Rings can be completely bypassed for members of the isolated rings. Since every isolated cycle (ring) does not share any edges (bonds) with any other elementary cycle it cannot be made by composing any other cycles (rings). Therefore, all isolated cycles (rings) are relevant and are members of all minimum cycle bases (SSSRs).
Important
the cycle sets returned are not ordered in the path of the cycle.
Further Explanation
The diagram below illustrates the isolated and fused sets of cyclic atoms. The colored circles indicate the atoms and bonds that are returned for each molecules.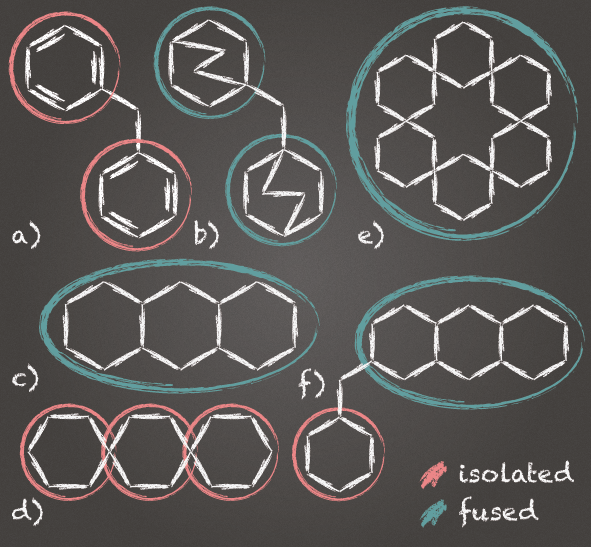 Two separate isolated cycles
Two separate fused cycle systems. The bridged systems are fused but separate from each other
Fused rings - a single fused cycle system
Spiro rings - three separate isolated systems, no bonds are shared
Cyclophane - a single fused system, the perimeter rings share bonds with the smaller rings
One isolated system and one fused system
Example Usage

 // construct the search for a given molecule, if an adjacency list
 // representation (int[][]) is available this can be passed to the
 // constructor for improved performance
 IAtomContainer container  = ...;
 RingSearch     ringSearch = new RingSearch(container);

 // indices of cyclic vertices
 int[] cyclic = ringSearch.cyclic();

 // iterate over fused systems (atom indices)
 for(int[] fused : ringSearch.fused()){
     ...
 }

 // iterate over isolated rings (atom indices)
 for(int[] isolated : ringSearch.isolated()){
     ...
 }

 // convenience methods for getting the fragments
 IAtomContainer cyclic = ringSearch.ringFragments();

 for(IAtomContainer fragment : ringSearch.fusedRingFragments()){
     ....
 }
 for(IAtomContainer fragment : ringSearch.isolatedRingFragments()){
     ....
 }